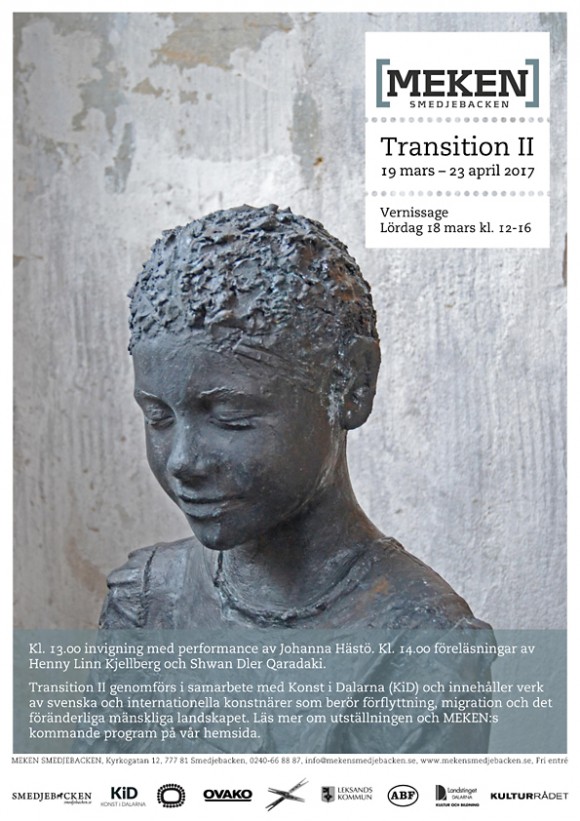 TRANSITION förflyttningar / den rörliga människan / föränderliga mänskliga landskap
Movements / moving man / changing human landscape
Group exhibition at MEKENS Konsthall in Smedjebacken 18.3 –  23.4 2017
During the opeing, at 2 pm, I will be giving an Artist talk.
With:
KATE CARR
MAGDALENA DZIURLIKOWSKA
SHWAN DLER QARADAKI
JOHANNA HÄSTÖ
PERNILLA JANSSON
HENNY LINN KJELLBERG
HANNA NIELSEN
BJÖRN OLSSON
LENA STENBERG
MARIETA TONEVA
KNUTTE WESTER
THAMER AL ZAIDI
GABRIEL JONSSON
HÅLLAMS LINNEA HENRIKSSON
"Throughout our human history, we have been on the move, to feed our
animals, to find food, jobs and security. In order to survive, the need to
meet basic requirements. This may be something of the past for some.
For others it is the living and present. But how can these experiences be
portrayed? How do we put in words, give form to or express the human
displacement and migration? To travel across time and landscape, creating
relationships in new places, redrawing and reinterpreting the human map."
TRANSITION was first shown at Leksands Kulturhus in October – November 2016, as part of the project Vägskäl.
Media from the exhibition at Leksands Kulturhus:
http://www.leksand.se/Uppleva-och-gora/Kultur1/Kulturhuset/Utstallningar/Utstallningar1/Vagskal-konstutstallning—Kulturmote/
http://sverigesradio.se/sida/artikel.aspx?programid=161&artikel=6535309
http://www.dt.se/kultur/forflyttningar-som-binder-samman
http://www.dalademokraten.se/kultur/konst/vagskal-massa-i-rorelse
The installation "Stillbild" ("Still") consist of a ruin of bricks and shards of earthenware tiles, with the main part of the piece placed on the ground but also a number of hanging, moving parts that captures a moment, a movement in time. Like a still from an explosion. The piece describes the notions of time,  flight, refuge, our fundamental need of protection and the human search for safety but also the importance of remembrance. By illustrating the link between history and present time the piece aims to reflect both upon the conflict situation in today's world and the general human condition throughout history.
Sponsors (material): Vittinge tegelbruk and Bältarbo tegelbruk (brick factories).