FLEE / FLEET at Missionskyrkan, Uppsala, 5.3 – 2.4 2017
 http://uppsalamissionskyrka.se/flee-fleet/
Flee/Fleet was first shown at Vendsyssel Kunstmuseum, Denmark, in 2012. The piece takes its' standpoint in the global situation for boat people. The term was used to describe the massive flow of boat refugees that came from Vietnam in the late 70's and 80's, when a large number of refugees fled over the seas in un-seaworthy vessels, at very high risk. Today the main flows of boat refugees are crossing the Mediterranean, the Gulf of Aden, the Mexican Gulf and the waters between Indonesia and Australia. Every year thousands of people die while trying to reach safety outside their own nation's border by boat, and the ones who do are often rejected in a seemingly arbitrary way. The situation has unfortunately gotten a lot worse during the years that has passed since this piece was made.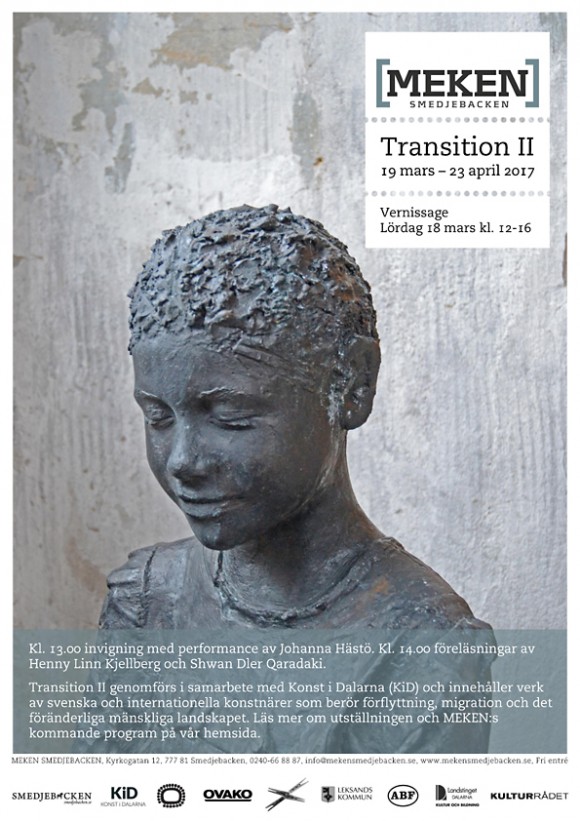 TRANSITION förflyttningar / den rörliga människan / föränderliga mänskliga landskap
Movements / moving man / changing human landscape
Group exhibition at MEKENS Konsthall in Smedjebacken 18.3 –  23.4 2017
During the opeing, at 2 pm, I will be giving an Artist talk.
With:
KATE CARR
MAGDALENA DZIURLIKOWSKA
SHWAN DLER QARADAKI
JOHANNA HÄSTÖ
PERNILLA JANSSON
HENNY LINN KJELLBERG
HANNA NIELSEN
BJÖRN OLSSON
LENA STENBERG
MARIETA TONEVA
KNUTTE WESTER
THAMER AL ZAIDI
GABRIEL JONSSON
HÅLLAMS LINNEA HENRIKSSON
"Throughout our human history, we have been on the move, to feed our
animals, to find food, jobs and security. In order to survive, the need to
meet basic requirements. This may be something of the past for some.
For others it is the living and present. But how can these experiences be
portrayed? How do we put in words, give form to or express the human
displacement and migration? To travel across time and landscape, creating
relationships in new places, redrawing and reinterpreting the human map."
TRANSITION was first shown at Leksands Kulturhus in October – November 2016, as part of the project Vägskäl.
Media from the exhibition at Leksands Kulturhus:
http://www.leksand.se/Uppleva-och-gora/Kultur1/Kulturhuset/Utstallningar/Utstallningar1/Vagskal-konstutstallning—Kulturmote/
http://sverigesradio.se/sida/artikel.aspx?programid=161&artikel=6535309
http://www.dt.se/kultur/forflyttningar-som-binder-samman
http://www.dalademokraten.se/kultur/konst/vagskal-massa-i-rorelse
The installation "Stillbild" ("Still") consist of a ruin of bricks and shards of earthenware tiles, with the main part of the piece placed on the ground but also a number of hanging, moving parts that captures a moment, a movement in time. Like a still from an explosion. The piece describes the notions of time,  flight, refuge, our fundamental need of protection and the human search for safety but also the importance of remembrance. By illustrating the link between history and present time the piece aims to reflect both upon the conflict situation in today's world and the general human condition throughout history.
Sponsors (material): Vittinge tegelbruk and Bältarbo tegelbruk (brick factories).
Galleri Sadelmakarlängan in Österbybruk 28.10 – 19.11 2017 – with Moa Lönn
http://www.sadelmakarlangan.se/#sadelmakarlangan
Workshops, kurser och föreläsningar:
Jag har kurser i min verkstad både för vuxna och barn. De flesta kurserna hålls i samarbete med Studiefrämjandet. För mer information se www.studieframjandet.se/uppsala. Vissa vuxenkurser sker i egen regi. Ring eller maila gärna för mer information.
Skapande Skola:
I samarbete med konstnär/keramiker Moa Lönn
KERAMIK I PRAKTIK
– Bygg ett konstverk till er skola!
Årskurs: F–6
Tillsammans med konstnärerna Moa Lönn eller Henny Linn Kjellberg ges din klass en unik möjlighet att arbeta fram ett gemensamt nytt konstverk till er skola. Fokus ligger på praktiskt arbete med det keramiska materialet samtidigt som eleverna ges tillfälle att lära sig om den lokala historien kring det gamla bruket Upsala-Ekeby.
ÄLSKA/HATA PLATSEN
Årskurs: 7–9
Hur upplever du och hur skulle du vilja förändra den här platsen? Finns det rum för dig och dina kompisar? Vem bestämmer över det offentliga rummet? I projektet får eleverna fundera över och besvara dessa frågor.
I samarbete med Uppsala Konstmuseum.
För ytterligare information kontakta antingen mig eller Rebecka Wigh Abrahamsson, Intendent pedagogik och program på Uppsala Konstmuseum.
Spara
Spara
Spara
Spara
Spara
Spara
Spara
Spara
Spara
Spara
Spara
Spara
Spara
Spara
Spara
Spara
Spara
Spara
Spara
October 8, 2014
2014 - Current / News | | 1 Comment
WORK IN PROGRESS
ARCHIVE
TAGS