During the month of April I have been a resident artist at Ricklundgården in Saxnäs, southern Lappland. I've been making the piece "Rågång", which has been on display there until the end of summer 2014. The installation, made from porcelain and wood, is based on one hundred year old maps over the local area and the name Rågång refers to the the markings that through time have been used to show ownership of land, marking territory. For further info: www.ricklundgarden.com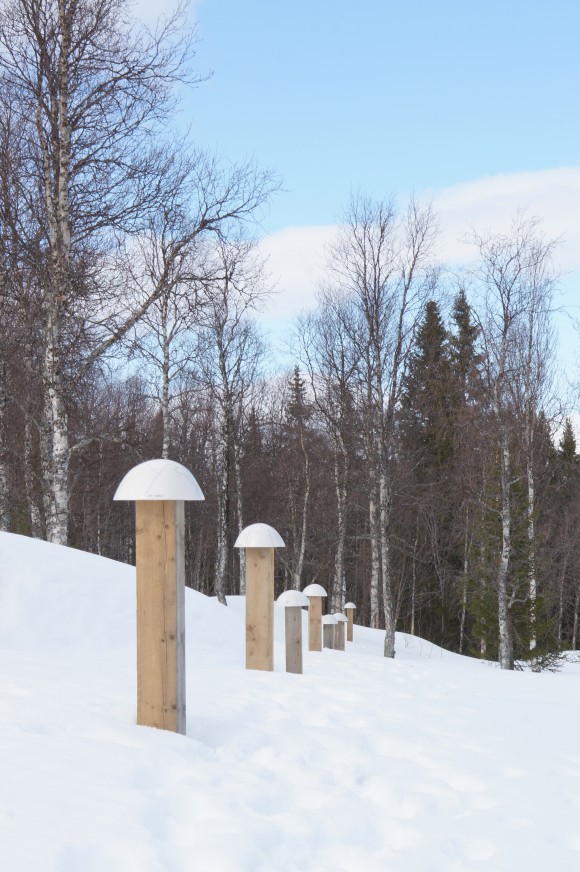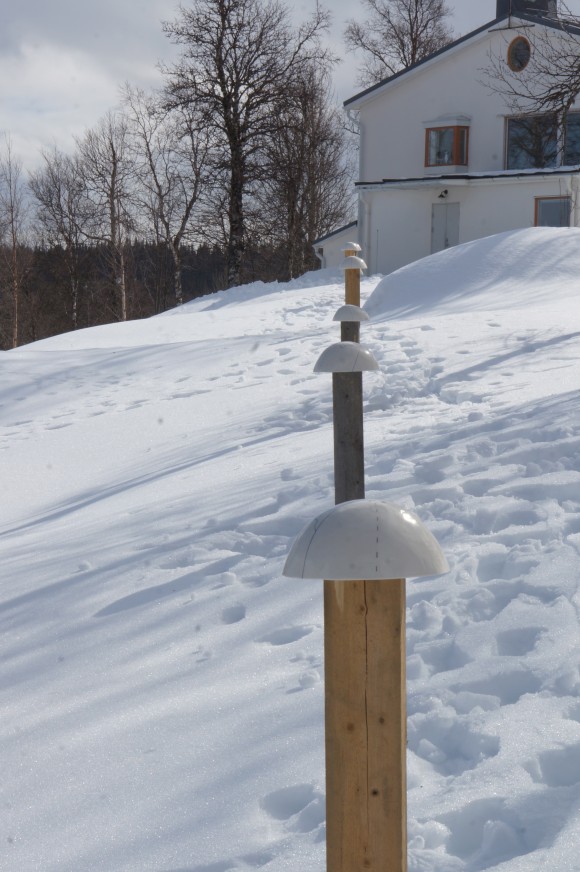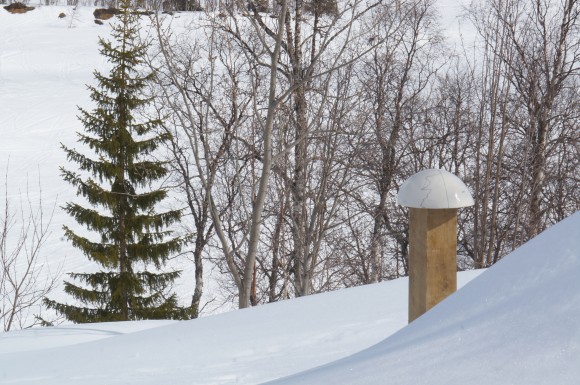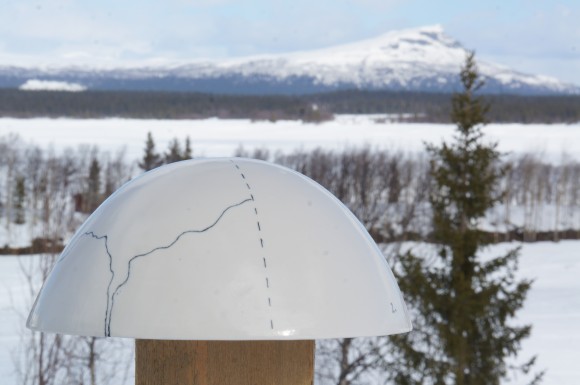 September 6, 2014
2014 - Rågång ARCHIVE | Land artSculpture & Installation | Comment
July 16 – August 25 2013 I was showing with the Swedish artist group Art Miners at Independants Yokohama 3rd, Yokohama and at Asahimashi Museum at Niigata University, Niigata, Japan.
My pieces were installed in the Japanese garden at the home/museum of the writer Ango.
September 17, 2013
2013 - Enter/Exit and Re-growth - JAPAN ARCHIVE Uncategorized | Land artSculpture & Installation | Comment
Stage design for the dance performance "MIN MAMMA ÄR EN IMPORT" at Gottsunda Dans & Teater, Uppsala. Shown between March 8-23 2013. For more info please visit http://www.gottsundateater.com/
The stage design is made of 10.000 small porcelain pieces, hanging in pilar shapes and placed on the floor.
KOREOGRAFI Lotta Gahrton
MUSIK Lars B Almkvist och Rikard Borggård
DANS Lotta Gahrton & Melody Sheikh
LJUSDESIGN Thijs Wiessing
SCENBILD Henny Linn Kjellberg
KOSTYM Helena Sjöstedt
FOTO: Kerstin Helsing
April 5, 2013
2013 - Min mamma är en import ARCHIVE | Performance & StageSculpture & Installation | Comment
Participating artists: Ane Fabricius Christiansen (DK), Ann-Louise Gustavsson (SE), Susanne Hangaard (DK), Henny Linn Kjellberg (SE), Julie Levorsen (DK), Toril Redalen (NO), Anders Ruhwald (DK/USA), Caroline Slotte (FIN), Mariko Wada (DK/Japan).
Boats have historically been a widely used form of migration or escape for people of limited resources, in situations like war and famine as well as in general search for a new and better life situation. Life at sea was, whether it was under circumstances of work, travel, war or migration, generally a lot harder and associated with more risk compared to current circumstances in the developed countries. In other parts of the world the conditions are not that different today.
This piece takes its' standpoint in the global situation for boat people. The term was used to describe the massive flow of boat refugees that came from Vietnam in the late 70's and 80's, when a large number of refugees fled over the seas in un-seaworthy vessels, at very high risk. Today the main flows of boat refugees are crossing the Mediterranean, the Gulf of Aden, the Mexican Gulf and the waters between Indonesia and Australia. Every year hundreds of people die while trying to reach safety outside their own nation's border by, and the ones who do are often rejected in a seemingly arbitrary way.
The installation consist of very thin vessel-like shapes made from low fired unglazed white porcelain. They float in the space, suspended from a wire structure in the ceiling, like a lost armada of fragile ships. The title of the piece refers to the fact that fleets of war create flows of fleeing people, and the general expression of the piece touches upon the idea that a vessel is a fragile container for life and that the human body is a frail vessel.
October 21, 2012
2012 - Flee / Fleet ARCHIVE | Sculpture & Installation | Comment
Solo exhibition at Ebelingmuseet, Torshälla, Sweden
June 16 – August 26, 2012
OMSTÄNDIGHET är en utställning om identitet, minne och inre tillstånd; skörhet och styrka, förändring och stillestånd, ro och flykt.
PENDEL är en installation av gungor som syftar både till barndomens värld av fysisk lek och parallella verkligheter, och till känslan av balans/obalans som ofta präglar oss i vuxen ålder. Gungorna är gjorda av handslaget hamprep och svartbrännande stengods med inslag av vit engobe.
INNANFÖR / UTANFÖR (tidigare kallade "Sakrament") utgörs av en slags moderna biktbås, inte så mycket platser för botgöring utan snarare fysiska avskärmningar som illustrerar gränsen mellan privat och offentligt, dolt och öppet. Platser från vilka det är möjligt att betrakta utan att själv bli sedd, avskärmningar mellan ett yttre och ett inre jag. De inramade kakelplattorna av svartbrännande stengods är uppbyggda av många små sammanfogade delar.
VINDLING bär formen av en stig uppbyggd av tusentals små, tunna flarn av lergods som gradvis skiftar färg från mörkt till ljust. Färgskiftningen kommer från varierande bränningstemperatur. Ju högre bränd leran är desto mörkare blir den. Verket handlar om förändring och framåtskridande.
FLYKTVÄG I Hopknutna lakan av porslin leder upp i, eller ned från, ett intet. En skör flyktväg, en chimär.
September 10, 2012
2012 - Omständighet ARCHIVE | Sculpture & Installation | Comment
November 12 2011 – January 28 2012 I had a solo exhibition at Multeum, Strängnäs, near Stockholm. In five site specific installations I wanted to express different view points on human existence, our place on earth and in history, on communication and engagement, life perspectives and spatial perspectives.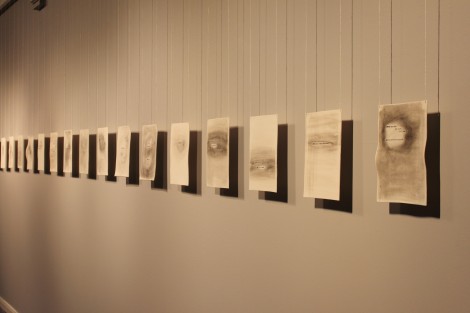 This piece is part of the series "Wire Works".
This installation deals with the concept of final storage of nuclear power; how little we know about how the safe keeping materials react over a period of thousands and thousands of years, and how erosion affect them.
January 30, 2012
2011 - Lång tids perspektiv ARCHIVE | Sculpture & Installation | Comment
Wire Works I-V, installations made with iron and porcelain barbed wire, is a kind of method developed to investigate spatial ideas. My fascination for barbed wire, the form as well as the conceptual image, grew out of a trip to South Africa a few years back. The wire is so ambiguous and contradictive. How can something so threatening at the same time be so beautiful? The wire communicates an image of surveillance and protection as well as exclusion, all depending on which side the spectator finds him/herself.
Wire Works V / Inre gräns, yttre gräns II,
Multeum, Strängnäs, to January 28, 2012
Wire Works IV / Inre gräns, yttre gräns
From the show Fem Markörer, Nyköping, September 2011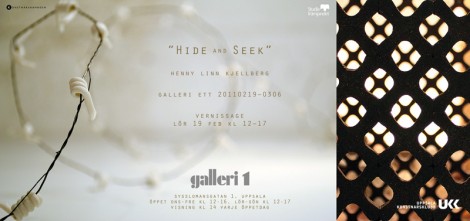 The piece was made for the show Hide and Seek in Uppsala, February 2011.
How can room and object in combination be used to flip perspectives and illustrate the borders between accessibility and isolation, between inside and outside? In earlier works I have been commenting on the theme borders: mainly physical, political and geographical. In Hide and Seek I am approaching the same idea from a more personal but at the same time universal angle. The three pieces shown in this exhibition describe the borders of human fear of alienation and our urge to protect ourselves, both physically and psychologically.
With support from:


December 11, 2011
2011 - Wire Works I-V 2011 - Wire Works I-V ARCHIVE | Interactive ArtSculpture & Installation | Comment
In August 2011 I was lucky to be invited to participate in the workshop / exhibition
Thai : Nordic 2011
at Sanamchandra Art Gallery, Silpakorn University, Bangkok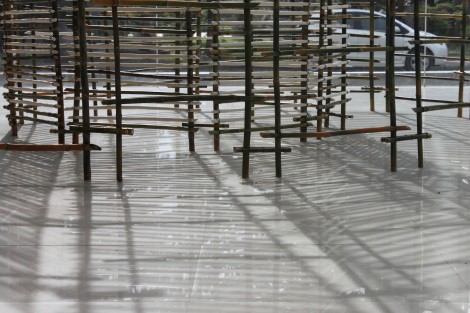 August 24, 2011
2011 - Shelter / Bangkok ARCHIVE | Sculpture & Installation | Comment
Platsspecifika verket Gå Vilse i trädgården vid Walmstedska gården, Uppsala, sommaren 2011
Swedish only: Rescension i Upsala Nya Tidning: http://www.unt.se/kultur/konst/motenas-utstallning-1382152.aspx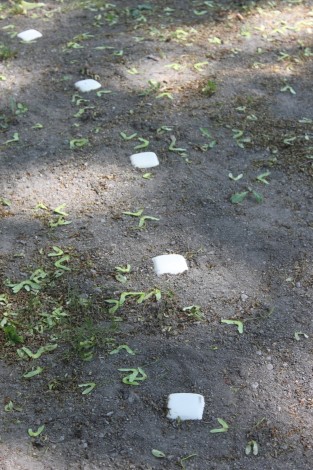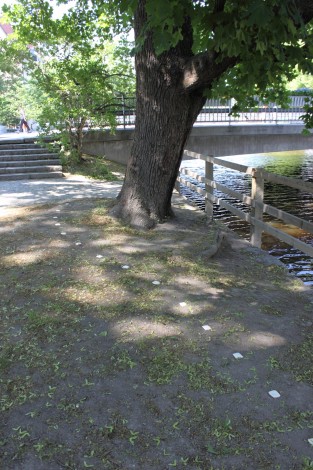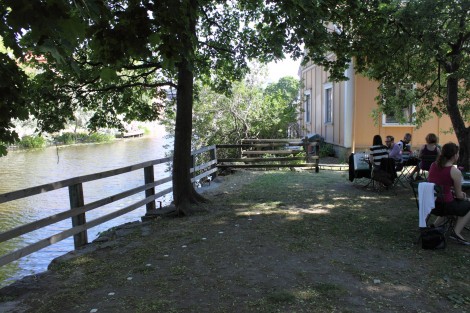 Swedish only: Rescension i Upsala Nya Tidning: http://www.unt.se/kultur/konst/motenas-utstallning-1382152.aspx
August 21, 2011
2011 - Gå Vilse ARCHIVE | Land artSculpture & Installation | Comment

In Sanity
with Scene at Officinet, Copenhagen
3. JUNI – 28. AUGUST 2011
Officinet / Danske Kunsthåndværkere
Bredgade 66
1260 København K
http://www.danskekunsthaandvaerkere.dk
Scene is a collaborative trio of ceramics artists that was founded in 2009. We have a lot of common artistic ground as we all work with clay in a more experimental, way than the majority of the ceramic community. Jennifer Woodin uses new technology such as digital imaging and fabrication as tools and part of her artistic expression and in Henny Linn Kjellberg's work ceramics are used in stage designs, performance and land art projects. Ane Fabricius Christiansen uses ceramics in combination with photography, video and ready-mades.
Our first collaborative show took place in Philadelphia, USA, in the early spring of 2010, during the international ceramic conference NCECA. The concept for that specific show was to examine different performative aspects of the ceramic object, using photography, installation and performance to activate the typically static ceramic art object, with the aim to change the audience's awareness of and interaction with the gallery as public space. We were interested in how our perceptions are challenged as we consider the transition of private to public, actor to audience or author to reader.
Officinet, our latest exhibit space, is the association Danske Kunsthåndværkere's main gallery. The space, situated close to Kunstindustrimuseet and next to the theatre Grønnegårdsteatret, was once used as a pharmacy, serving patients from the connecting sanatorium. Over the last 400 years it has been used to serve the general public's mental health, either through medication or culture. The history of the space has dealt with our basic human need of sanity.
The space was shared with the neighboring Grønnegårdsteatret, which will expose the exhibition to a larger and slightly unusual audience than the average craft show. This is something that we have been taking in consideration when designing the parameters for the show. We are exploring the performance aspect of culture by inviting the gallery visitors to enter a stage-like scene that draws parallels both to the history of the exhibition space and to it's current function/situation.
The exhibition is investigating the notion of self-identity, the illusion of sanity and insanity, the history of place, stories and memories. Throughout life we collect images in our mind of familiarity and assign certain identities to everything we encounter. Some objects elicit fear, some are neutral and others can bring great joy.  All of these projected memories of objects throughout our life become part of our culture and the way we perceive it.
As part of the exhibition, each of the artists has developed ceramic objects that represent the familiar and mundane reality of life that we use to build our identities. The placement and implied function of these familiar forms, then taken out of context, call into question what we believe to be solid. The strange new representation of trusted objects cause an unsettling moment of groundlessness.
The show consists of a mix between ready-mades, ceramic objects and sound installation. Each artist presents individually made ceramic objects, but the over all design is formed collaboratively.
August 21, 2011
2011 - In Sanity ARCHIVE | Sculpture & Installation | Comment
« go back
—
keep looking »
WORK IN PROGRESS
ARCHIVE
TAGS