Stage design for the dance performance "MIN MAMMA ÄR EN IMPORT" at Gottsunda Dans & Teater, Uppsala. Shown between March 8-23 2013. For more info please visit http://www.gottsundateater.com/
The stage design is made of 10.000 small porcelain pieces, hanging in pilar shapes and placed on the floor.
KOREOGRAFI Lotta Gahrton
MUSIK Lars B Almkvist och Rikard Borggård
DANS Lotta Gahrton & Melody Sheikh
LJUSDESIGN Thijs Wiessing
SCENBILD Henny Linn Kjellberg
KOSTYM Helena Sjöstedt
FOTO: Kerstin Helsing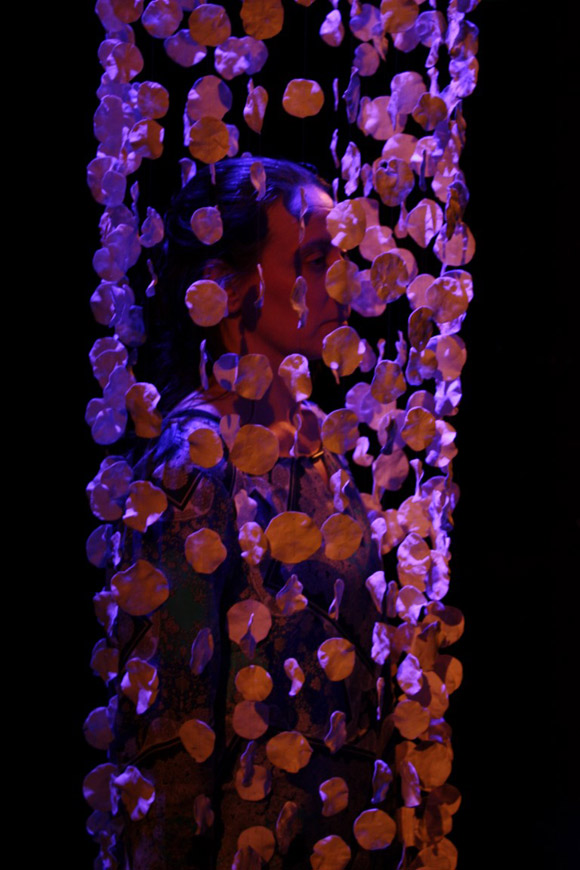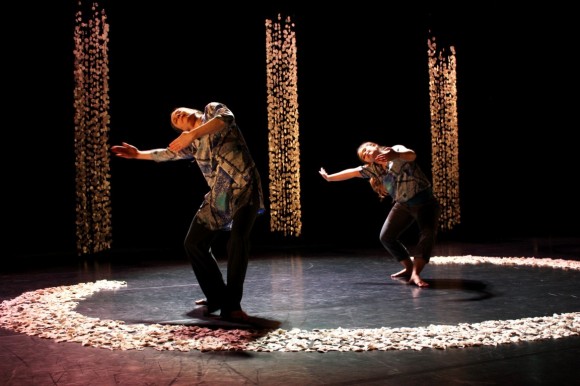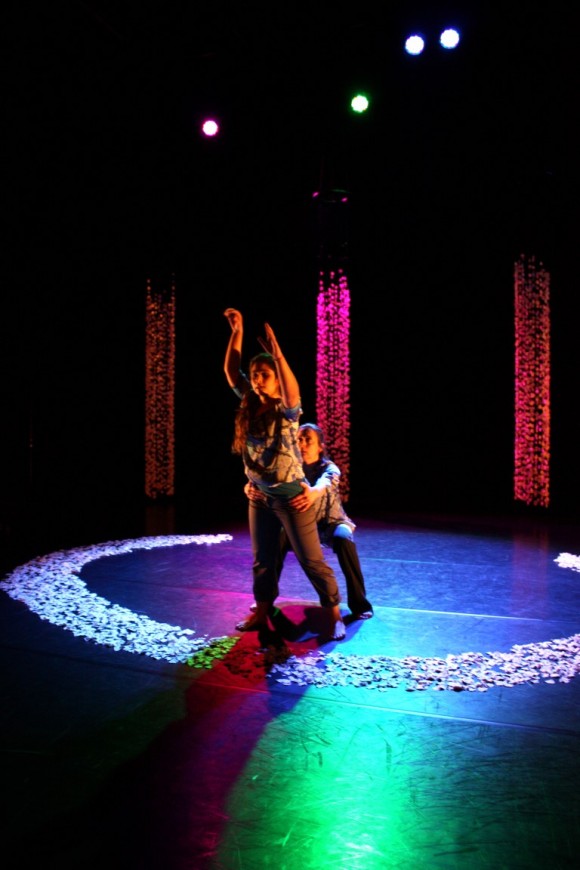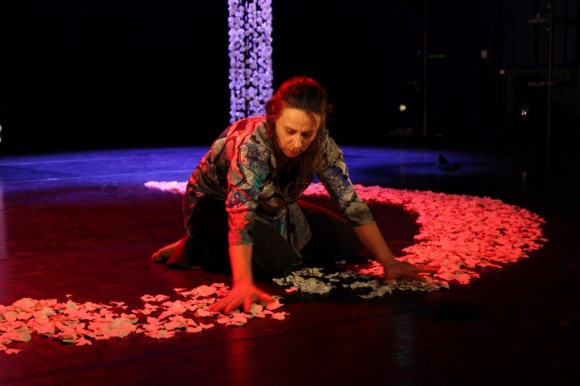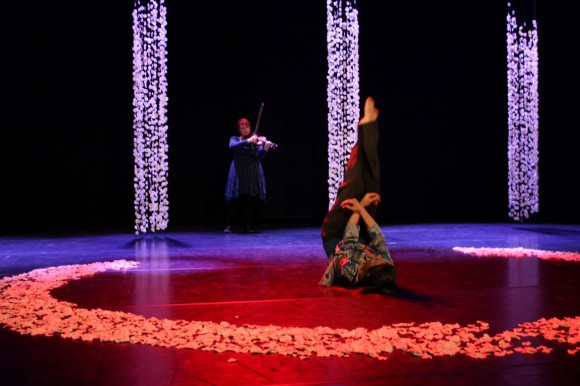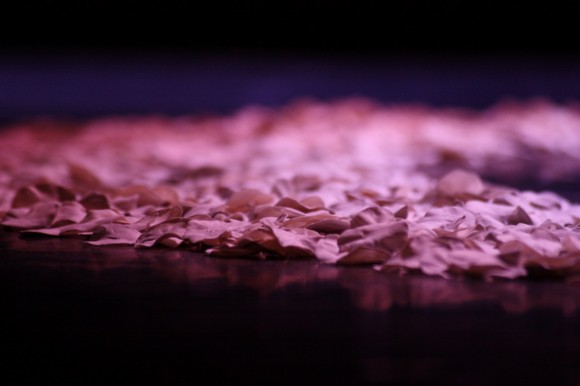 April 5, 2013
2013 - Min mamma är en import ARCHIVE | Performance & StageSculpture & Installation | Comment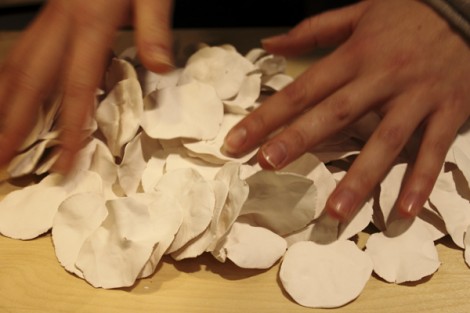 In rush hour at the main metro station (T-Centralen) in Stockholm, 5 dancers carried eggs and thin leaves of porcelain on large plates. A different choreography emerged on the platform and in the trains, between dancers and passangers. It performed an awareness of relations between the hard materials – concrete, stone, iron – the stressful rhythm of people walking and waiting, and the brittle body of eggs and human beings. (Monica Sand)
Idea and performer: Anna E Weiser
Dancers: Hanna Bylund, Maria Värendh, Lotta Lundgren, Åsa Rudehill
Ceramics: Henny Linn Kjellberg
Film: Monica Sand
Den 25 november 2010 medverkade jag med en mängd sköra porslinsflarn till ett undersökande konstprojekt av Anna E Weiser, masterstudent vid Kungliga Musikhögskolans program Komposition-Intermedia. Fragile Skin var en del av projektet Mind the Gap, ett T-bane experiment iscensatt av konstnären och forskaren Monica Sand.
Om tunn hud/skal/yta i tät miljö
Annas utgångspunkt är vår sensibilitet sett ur ett rums- och resonansperspektiv och fokus är det i rummet vi inte hör men känner.
Vid 17-tiden är det rusningstrafik i Stockholms T-bana. Tempot är högt, det är trångt och ljudnivån nästan smärtsam. Om någon kommer bärandes på ett stort flak ägg, tunna porslinsflarn eller en skör avgjutning av någons bröstkorg. Kan vi aktas eller akta då? Hur nära eller långt bort ligger vår förmåga att ställa om från snabbt till långsamt, hårt till mjukt, pågående till stillastående? Är vi sensibla?
5 personer bar sköra ting och lika många personer observerade/dokumenterade. De klev på T-banan från Centralen klockan 17.00 torsdagen den 25 nov mot Fruängen/Norsborg, klev sedan av vid Slussen, i ett sicksack-mönster , på igen, av vid Hornstull, på igen, av vid Liljeholmen, på igen och tillbaka.
Som att sy med skör tråd fram och tillbaka genom tät väv.
De som medverkar specifikt i detta projekt är bl.a. dansarna Hanna Bylund, Maria Värendh och Åsa Rudehill. Avgjutning, Malin Sjöstrand.
Jag vill säga tack till Anna E. Weiser som bjöd in mig till projektet och till Anna och Anna och Hedvig som assisterade mig med porslinsflarnstillverkningen.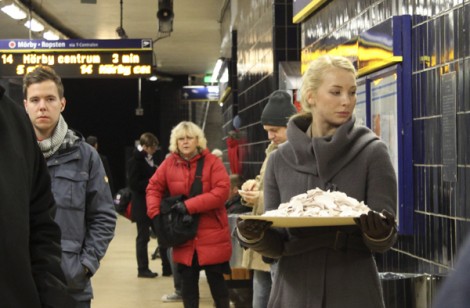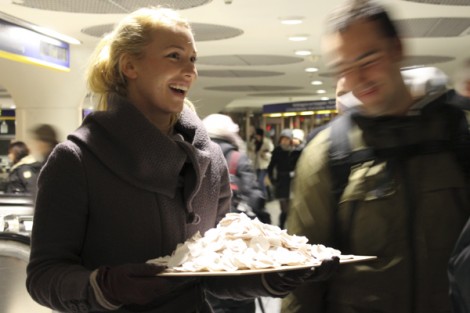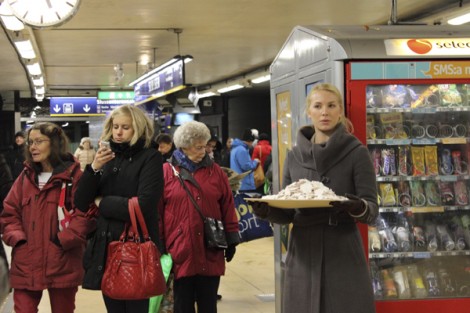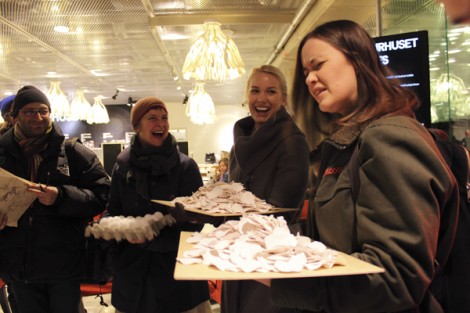 December 1, 2010
2010 - Fragile Skin (w. Anna E. Weiser) ARCHIVE | Interactive ArtPerformance & Stage | Comment
September 16-19 I presented Re-collection, a ceramic land art piece / performance at Hirtshals strand during CreaBiz Ceramic Conference 2010, an International Ceramics Symposium in Vendsyssel, Denmark. For more information about the symposium, please visit: www.creabiz.dk
Theme and Background: When I was younger I used to be a fanatic stone collector. I especially remember a stay in the Cape North area in Norway where I used to roam the beaches in search for stones. These stones were very special: dark red, olive green, striped and extraordinarily round and smooth. The area is, geologically, very old and I imagined how the stones had been there for millions of years, shaped by water, rocked by waves.
The act of collecting holds equal parts curiosity and satisfaction. The searching in it self is in the case of stones almost a meditative act, reinforced by the calmness of the surrounding nature. Keeping the found objects is a way to bring back both memories from that specific moment and the sense of fullness connected to it.
There is one question that I find connects the collector in me with my ceramic work. "What do we leave behind?"  For a maker of things it is a steady companion: why am I making these objects and for whom? I like the idea of my work leaving small, hardly noticeable traces and I'm interested in using clay in a non-traditional context, such as nature.
Description of the work: I made a large number of stone shaped, smooth porcelain objects. These "stones" were then spread along a fairly long stretch of the Hirtshals beach. Some were put in the water, other's further up on land. Quite a few of them will probably get picked by collectors like me, but a number will mix with other stones and the beach sand. Maybe they will be found in a year, maybe in a thousand, maybe never.
This is a subtle piece, not visible at a first glance. The making of the porcelain stones and the spreading of them is, in a sense, the reverse of collecting. The process was documented but after that the pieces were left to them selves. When I returned a few days after the installation most of them had been taken by the sea or picked by people passing by.
Thank you: Maret Kjellberg for assisting in the making of 1500 porcelain stones, CreaBiz conference in Hjørring, Vensdsyssel, DK for inviting me to do the project and to Josh Copus, John Britt and Sharif Bey for assisting at the site and helping with documentation.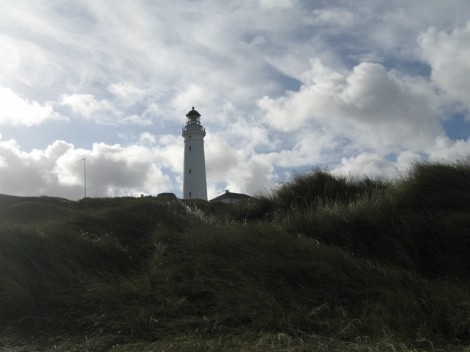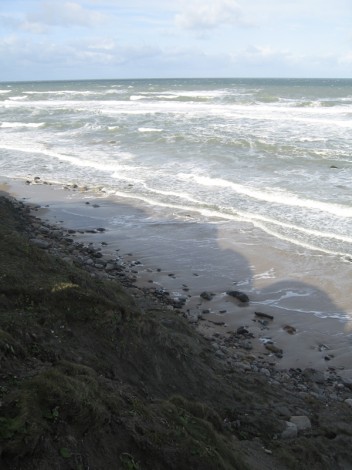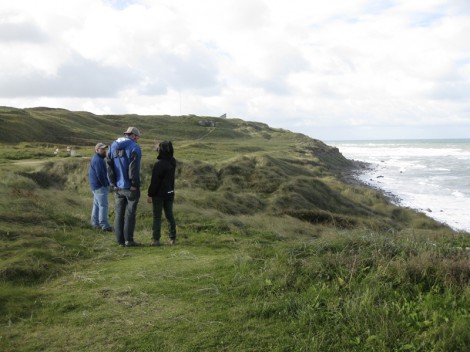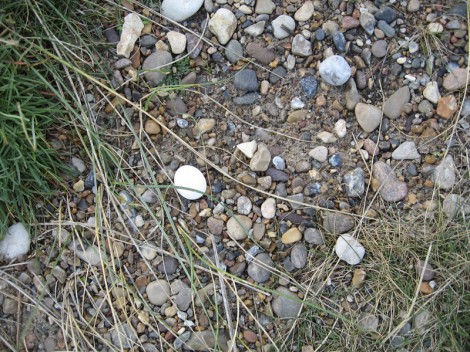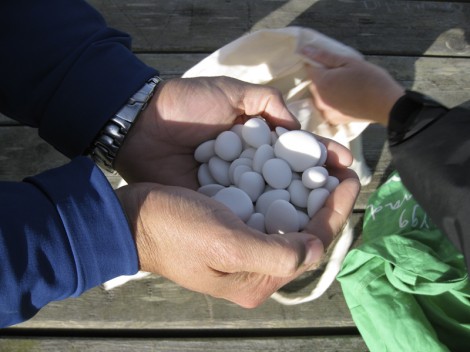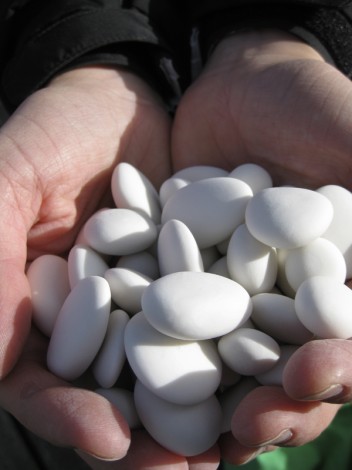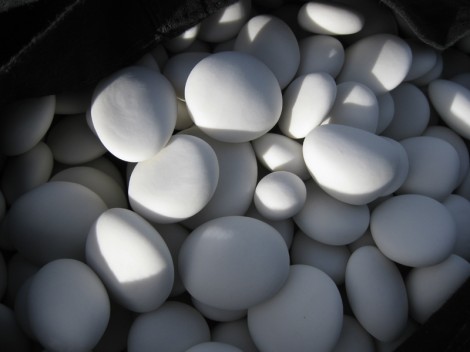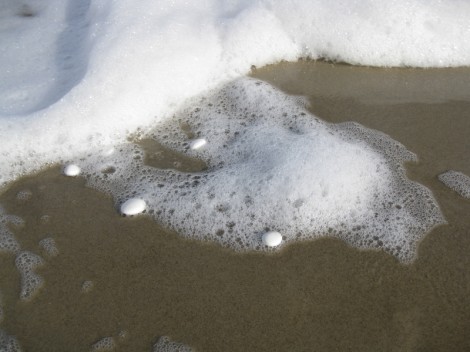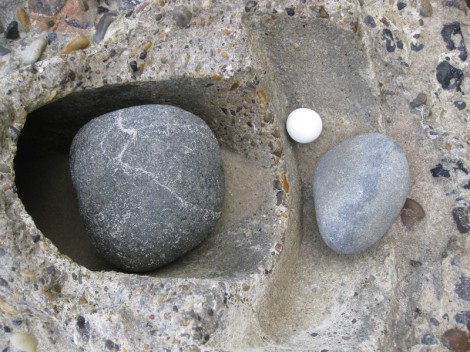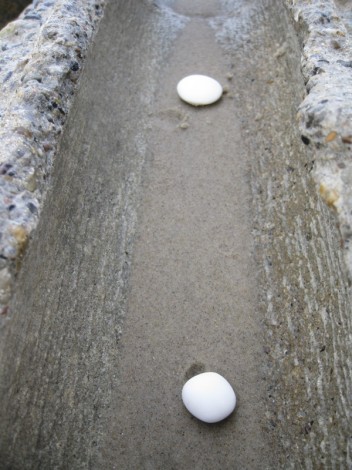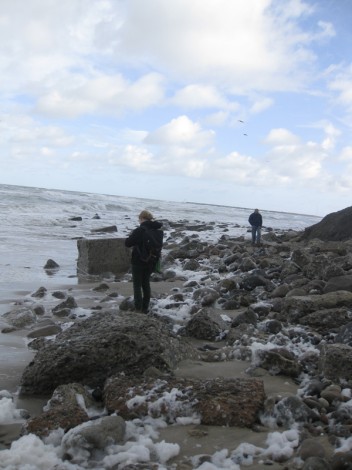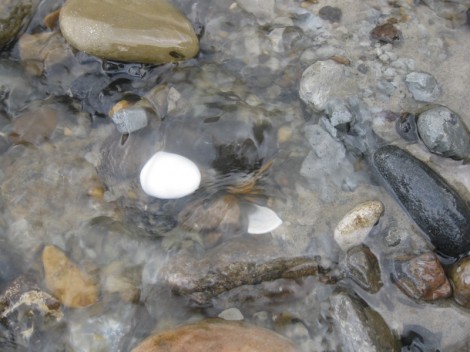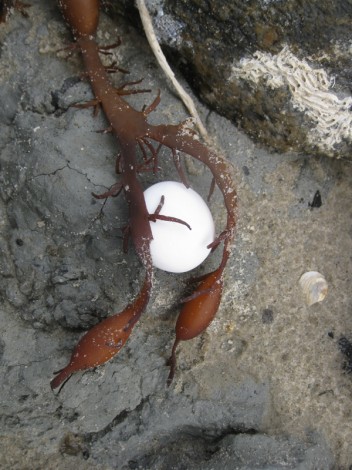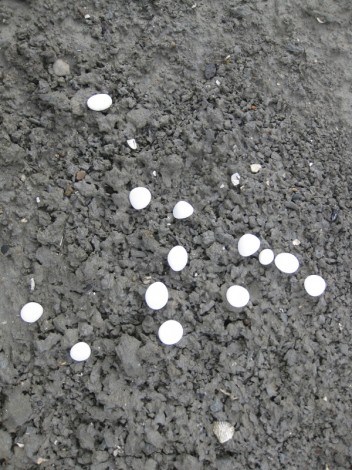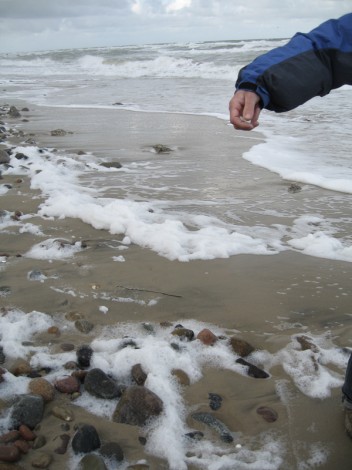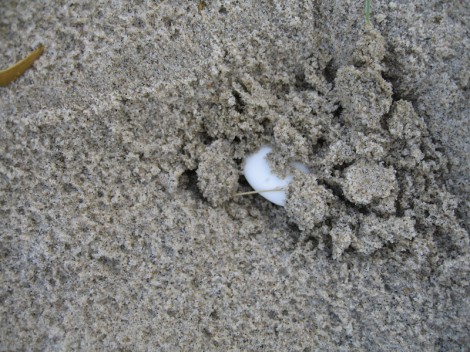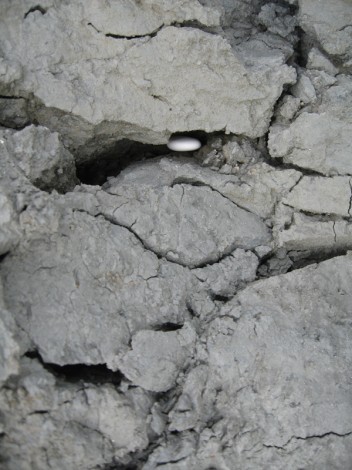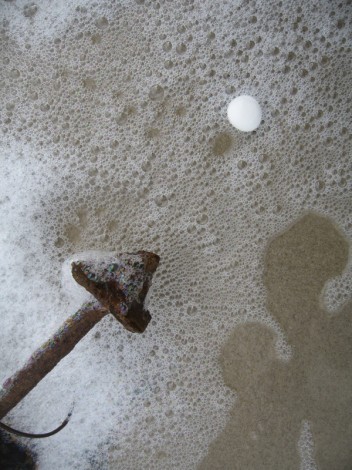 December 1, 2010
2010 - Re-collection ARCHIVE | Land artPerformance & StageSculpture & Installation | Comment
Listen to a sound clip on Swedish National Radio (Mitt i musiken) from Monday September 5 2011 about the latest work in progress performances of Dreamseminar:
Below are images from the dress rehearsal / Work-in-Progress performance of Dream Seminar/ Drömseminarium. Västerås Konserthus, Lilla Salen, on June 18 2009.
June 20, 2009
2009 - Dream Seminar / Drömseminarium ARCHIVE Dream Seminar / Drömseminarium | Performance & Stage | Comment
Objects/props of porcelain, shaped to represent simple everyday objects; a knife, a stone, a can. A performance with the musician/ storyteller Sarah Granskou about life in a small Inuit community on Canada's east coast. Clown Hall, Toronto. With support from IASPIS/ The Swedish Arts Grants Committee and Estrid Ericsons Stiftelse. 2001.
October 12, 2008
2001 - Umiak Inuk ARCHIVE | Interactive ArtPerformance & StageSculpture & Installation | Comment
Objects/ costume. A performance with dancer Pia Sidetun about aging, remembering and moving on. Ribersborg Cold Bath House, and Chokladfabriken, Malmö. With support from Konstfrämjandet i Malmö and Af Kultur. 2003.
October 11, 2008
2003 - Solve ARCHIVE | Performance & Stage | Comment
(Bevingad, Betagen)
Set design/ objects. A collaboration with the dancer/performer Maud Karlsson. A piece about dreams, communication and change. With support from Uppland Arts Council. Shown at the Botanical Garden in Uppsala, Uppsala Art Museum and more. 2005. For more info about Maud Karlsson's work, check out www.maudsart.se.
In rapture was, at first, conceived of as a performance based on ideas regarding communication: how to communicate within and between different art forms as well as outward communication; drawing on both artistic expressions and personal experience. We discovered that we, in spite of our different art forms, shared a common language of expression.
With this as a frame, the collaboration began to evolve. One of my strongest artistic interests has long been to see how the number of objects the spectator meets affects his or her experience. Combined with my fascination for animal symbolism, I caught the image of a swarm. Then a butterfly flew by.
This image I handed over to Maud, who with delicacy translated it into movement – an embodiment of transformation.  Through a saturated metaphorical language she moves through different emotional states, where the symbolism links to general problems of the human being – vulnerability, dreams and self-fulfilment.
October 9, 2008
2005 - In Rapture ARCHIVE | Performance & Stage | Comment
Set design. A new piece for music-theatre based on the work of contemporary Swedish poet Tomas Tranströmer. Bilingual, mixing the original Swedish with English translations. The raw material for the piece is being developed through a series of development workshops, through improvisation by 25 artists from 7 different countries, a true international collaboration. Premiere in Sweden and New York, 2010. For more info: www.companionstar.org/fortheliving
Photos from rehearsals at Västerås Konserthus, June 2008. With support from: Västerås Stad, Landstinget Västmanland, Länstyrelsen i Västmanland, Barbro Osher Pro Suecia Foundation, American-Swedish Foundation and New York State Council on the Arts.
October 9, 2008
2008 - Dream Seminar / Drömseminarium ARCHIVE Dream Seminar / Drömseminarium | Performance & Stage | Comment
Object/ performance/ photo. A golden crown. People passing in a shopping mall, young and old, dressing in the gown of the fairytale and commenting on their own relation to "the princess". Or the prince. A work about the relation between body and object and about status, images, fantasy and power. With support from Uppland Arts Council and the Culture Network, Uppsala. 2007.
October 9, 2008
2007 - Princesses ARCHIVE | Interactive ArtPerformance & Stage | Comment
WORK IN PROGRESS
ARCHIVE
TAGS