July 4th – August 9th I presented an outdoor installation at "Magiska Rum", a summer exhibition at Rånäs Castle Park, Norrtälje.
August 14, 2015
2015 - Passage ARCHIVE | Land artSculpture & Installation | Comment
May – September 2014 this piece was featured in the exhibiton "Ohana" in Uppsala Botanical Garden.
The work is called Musca Infernalis and consist of more than one hundred large scale flies, made from stoneware. The piece is a comment on invasive species and the fear of the unknown and "ugly".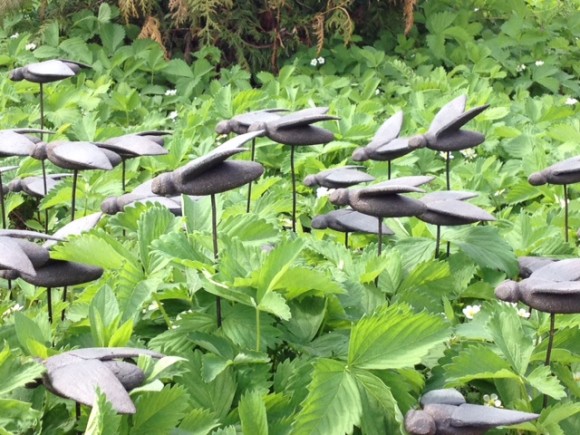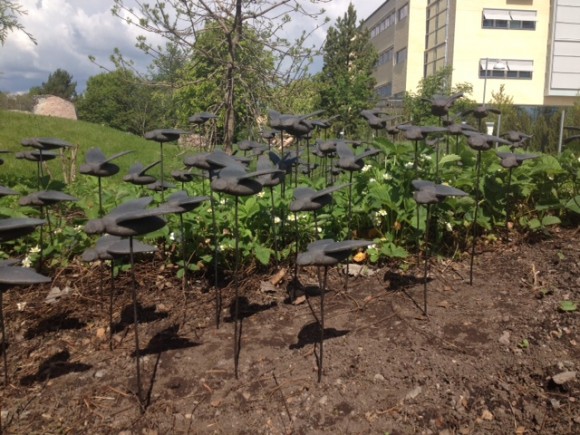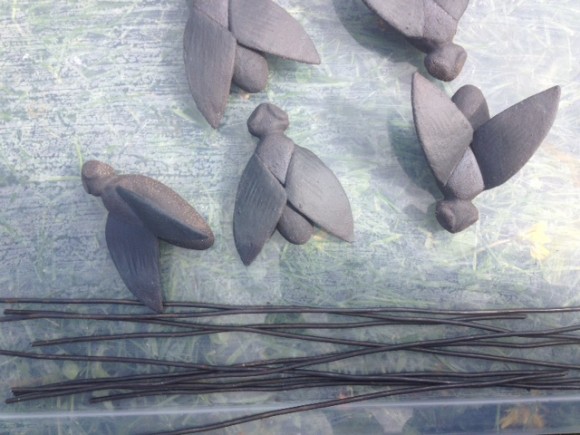 Workshops, kurser och föreläsningar:
Jag har kurser i min verkstad både för vuxna och barn. De flesta kurserna hålls i samarbete med Studiefrämjandet. För mer information se www.studieframjandet.se/uppsala. Vissa vuxenkurser sker i egen regi. Ring eller maila gärna för mer information.
September 6, 2014
2014 - Ohana ARCHIVE | Land artSculpture & Installation | Comment
During the month of April I have been a resident artist at Ricklundgården in Saxnäs, southern Lappland. I've been making the piece "Rågång", which has been on display there until the end of summer 2014. The installation, made from porcelain and wood, is based on one hundred year old maps over the local area and the name Rågång refers to the the markings that through time have been used to show ownership of land, marking territory. For further info: www.ricklundgarden.com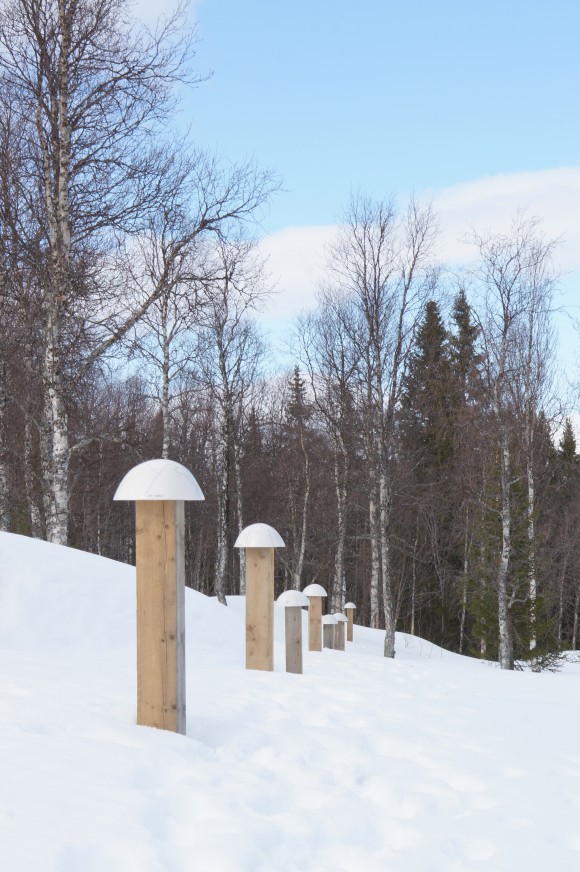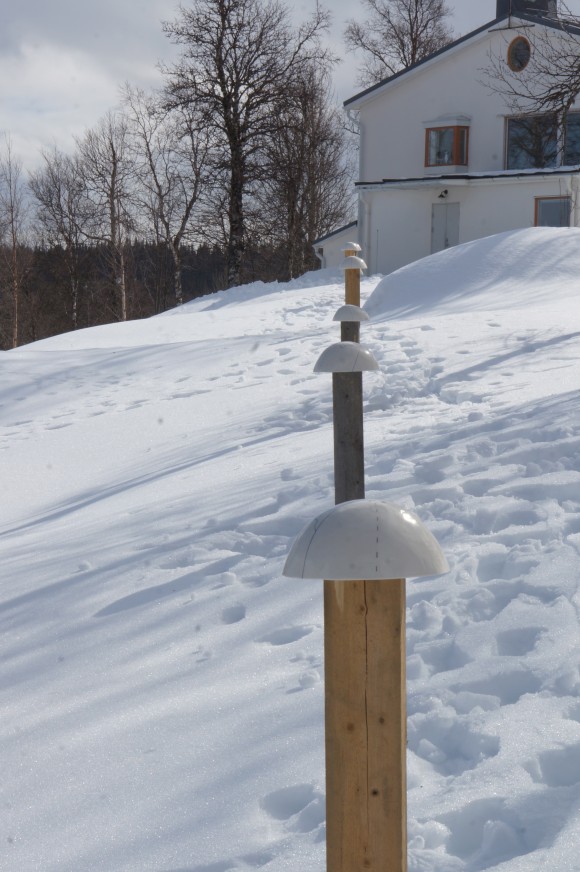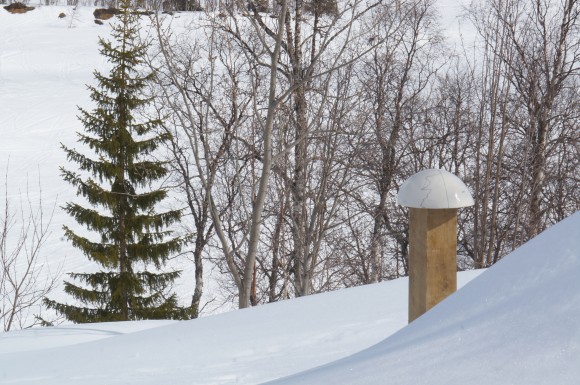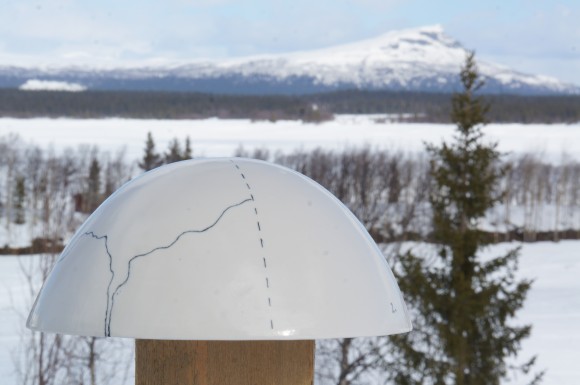 September 6, 2014
2014 - Rågång ARCHIVE | Land artSculpture & Installation | Comment
July 16 – August 25 2013 I was showing with the Swedish artist group Art Miners at Independants Yokohama 3rd, Yokohama and at Asahimashi Museum at Niigata University, Niigata, Japan.
My pieces were installed in the Japanese garden at the home/museum of the writer Ango.
September 17, 2013
2013 - Enter/Exit and Re-growth - JAPAN ARCHIVE Uncategorized | Land artSculpture & Installation | Comment
Platsspecifika verket Gå Vilse i trädgården vid Walmstedska gården, Uppsala, sommaren 2011
Swedish only: Rescension i Upsala Nya Tidning: http://www.unt.se/kultur/konst/motenas-utstallning-1382152.aspx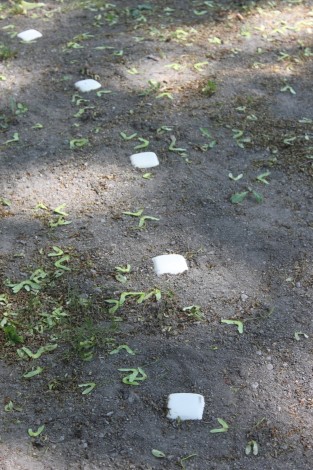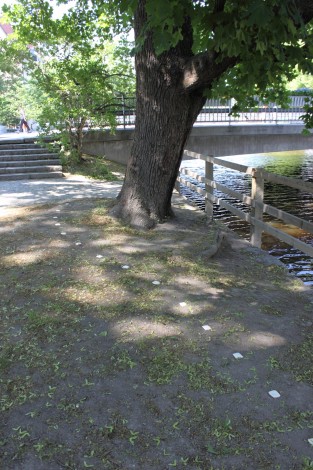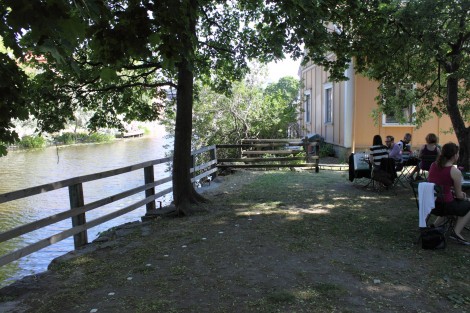 Swedish only: Rescension i Upsala Nya Tidning: http://www.unt.se/kultur/konst/motenas-utstallning-1382152.aspx
August 21, 2011
2011 - Gå Vilse ARCHIVE | Land artSculpture & Installation | Comment
September 16-19 I presented Re-collection, a ceramic land art piece / performance at Hirtshals strand during CreaBiz Ceramic Conference 2010, an International Ceramics Symposium in Vendsyssel, Denmark. For more information about the symposium, please visit: www.creabiz.dk
Theme and Background: When I was younger I used to be a fanatic stone collector. I especially remember a stay in the Cape North area in Norway where I used to roam the beaches in search for stones. These stones were very special: dark red, olive green, striped and extraordinarily round and smooth. The area is, geologically, very old and I imagined how the stones had been there for millions of years, shaped by water, rocked by waves.
The act of collecting holds equal parts curiosity and satisfaction. The searching in it self is in the case of stones almost a meditative act, reinforced by the calmness of the surrounding nature. Keeping the found objects is a way to bring back both memories from that specific moment and the sense of fullness connected to it.
There is one question that I find connects the collector in me with my ceramic work. "What do we leave behind?"  For a maker of things it is a steady companion: why am I making these objects and for whom? I like the idea of my work leaving small, hardly noticeable traces and I'm interested in using clay in a non-traditional context, such as nature.
Description of the work: I made a large number of stone shaped, smooth porcelain objects. These "stones" were then spread along a fairly long stretch of the Hirtshals beach. Some were put in the water, other's further up on land. Quite a few of them will probably get picked by collectors like me, but a number will mix with other stones and the beach sand. Maybe they will be found in a year, maybe in a thousand, maybe never.
This is a subtle piece, not visible at a first glance. The making of the porcelain stones and the spreading of them is, in a sense, the reverse of collecting. The process was documented but after that the pieces were left to them selves. When I returned a few days after the installation most of them had been taken by the sea or picked by people passing by.
Thank you: Maret Kjellberg for assisting in the making of 1500 porcelain stones, CreaBiz conference in Hjørring, Vensdsyssel, DK for inviting me to do the project and to Josh Copus, John Britt and Sharif Bey for assisting at the site and helping with documentation.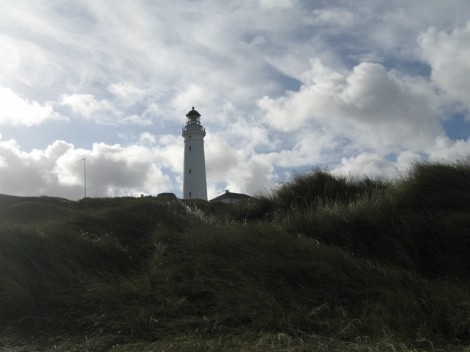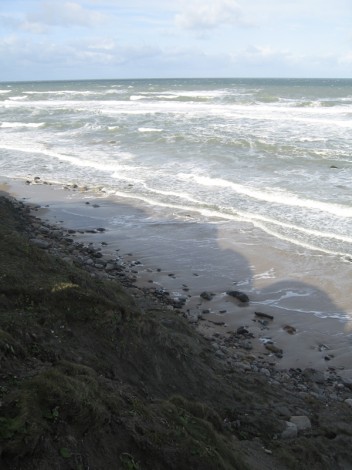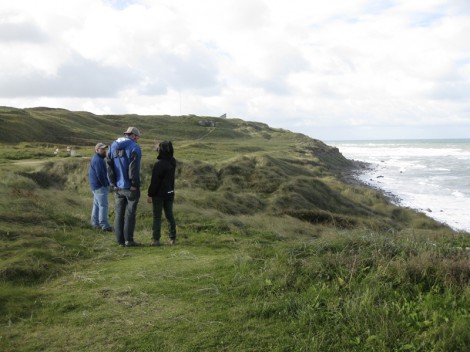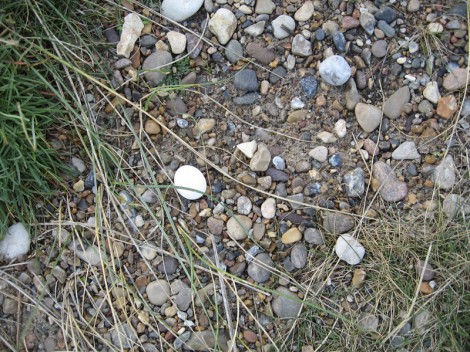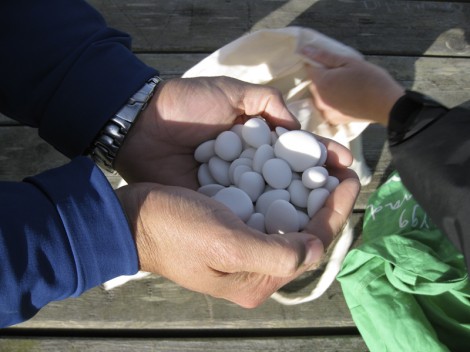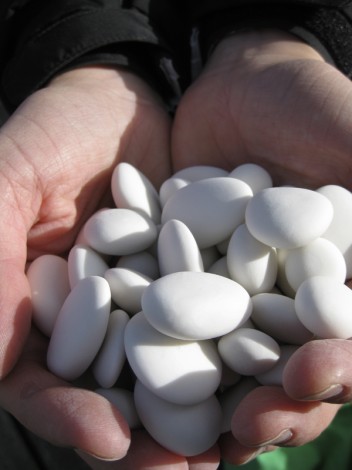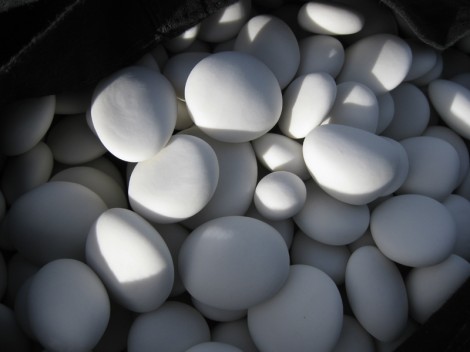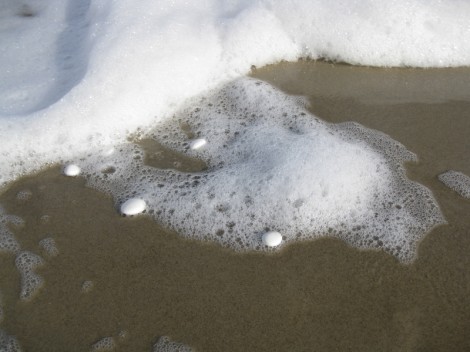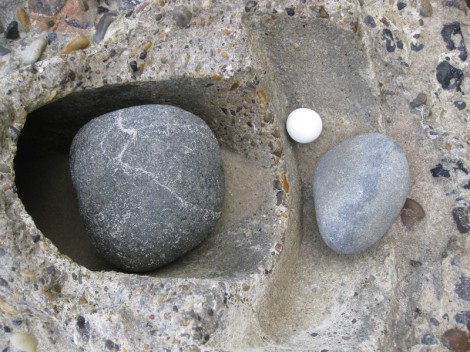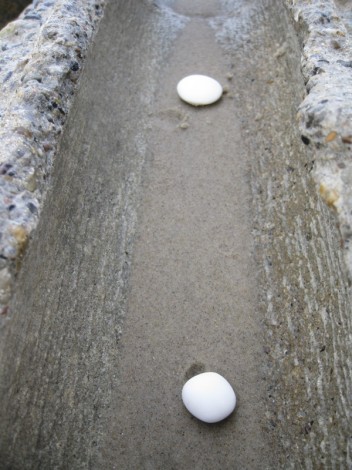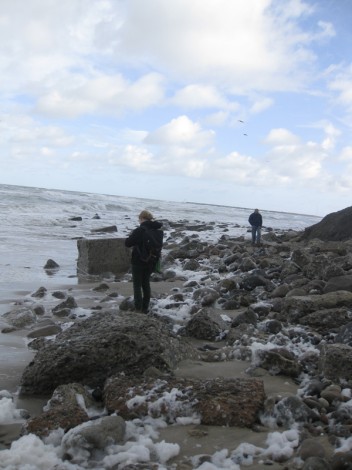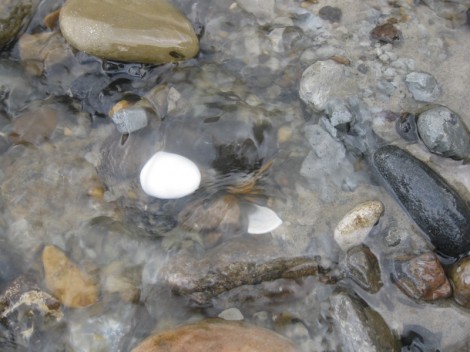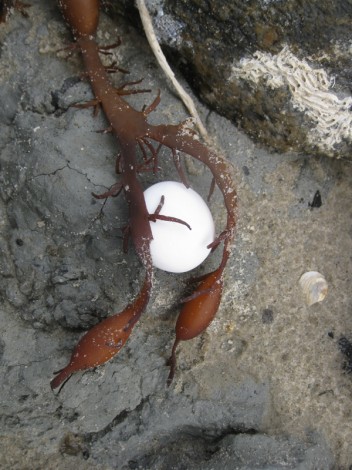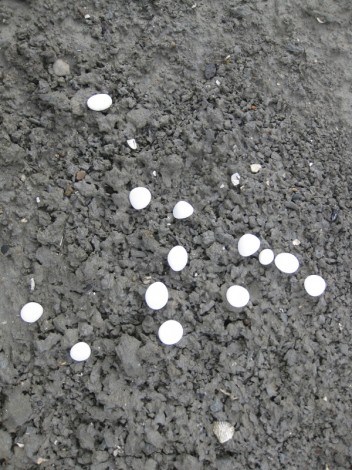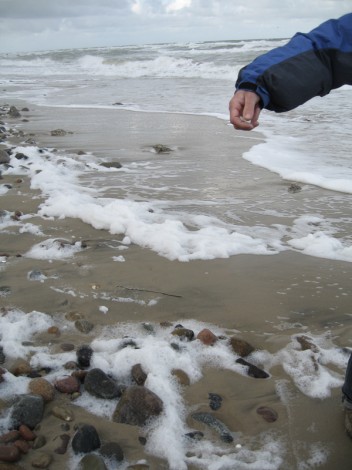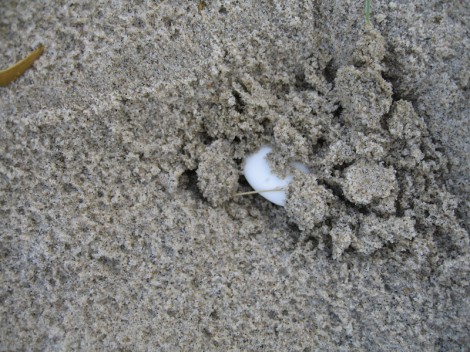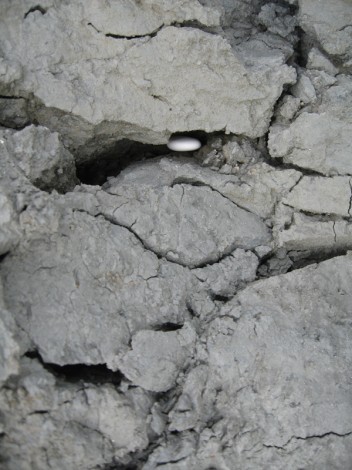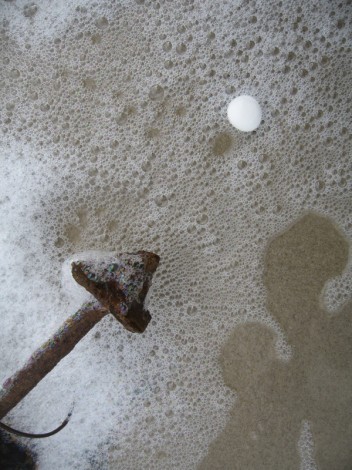 December 1, 2010
2010 - Re-collection ARCHIVE | Land artPerformance & StageSculpture & Installation | Comment
NOVEMBER 15 2009 to MARCH 22 2010 I participated in Field Work, a project which aims to present site-specific art installations in a field near Perth, Ontario, (Canada) for passers-by to stumble upon, discover, journey to, and explore.  A new installation is created each season by a 'fieldworker' (artist) – with the aim of addressing a variety of ways that we may relate to the space – conceptually, spiritually, formally, economically, playfully, etc." Further info at: www.fieldworkproject.com
fieldwork


freedom to
roam
(Allemansrätt / All men's right)
wood, fence wire, ceramics
2009
Freedom to roam is a comment on land rights and the use of land. In Nordic
countries the freedom to roam is written in the constitution and an unspoken
knowledge that people are brought up with. Humbleness and respect is
woven into the concept: leave a site untouched, in the state that you found it.
Use, but don't exhaust. Nature belongs to everybody – and nobody.
In North America there is a lot of private land and restricted areas. No
trespassing signs are common things for those who live here, but a strange
concept to a visitor. The ownership of land raises a lot of questions: what
is public, what is private? What is public space? Who controls it? Who has
the right to use public space and to act there? What gives some people the right to
deny others trespassing?

Those questions inevitably lead to another major theme that inspired
Freedom to Roam: conflicts, war and migration. Nations, borders and
crossings. The barbed wire fence in this context represents the ambiguity
and arbitrariness in the way that decision makers in states with more power
control people coming in or running away from the less powerful nations.
Who is granted access and who is not?
Additional information and updates about the fieldwork project, artists,
installations, photo documentation and supporting links, can be found by visiting
www.fieldworkproject.com
I: Installation and Background
During a couple of sunny and warm November days with generous help from Carl Lindquist and Susie Osler, the Winter -09 Fieldwork installation Freedom to Roam was set up. The 300 feet long fence follows the road and ends in a soft turn between the trees at the far end of the Fieldwork site. Even though it's colors at this time of year blends with the surroundings the size of the piece still makes it striking.
First time I really noticed the beauty and ambiguity of barbed wire was during a trip to South Africa in 2008. Most private property there has high walls with barbed wire coils or electric wire on top surrounding it in order to keep uninvited guests out. The South African crime rate is very high, and in many ways the need to secure your property, house and personal safety feels natural. At the same time it made me think a lot about history – not only the South African situation with apartheid, but also in general about nationality, class, segregation, border control and ownership.
When I was asked to participate in Fieldwork it felt natural to make a comment that somehow related to this theme. I also found the shape of the wire itself really interesting: how can something so hostile looking at the same time be so beautiful? The clay part of the piece, the actual barbs, enhances that in a very specific way. Being ceramic and there for fragile they can never actually function in the same way as the object they're representing. That general idea comes back in shaping of the fence.
My initial idea was to work with the wire in a kind of roll, resembling the fences used at borders and fronts, but with the more commonly used fence the references can apply to a wider area of ideas related to property and land. It was also easier to exaggerate the size of the installation and, again, reinforce the strangeness of the act of fencing in. What can a ten feet high fence, with the lowest strand at five feet, possibly fence in? No matter how much effort is put in to keeping "others" out there will always be some who succeed in entering or passing through.
Freedom to Roam II: Hunting and Uranium
After finishing the installation of Freedom to Roam, I had an interesting conversation with Susie Osler, owner of the FieldWork site land. This was right around hunting time in the area, and Susie did not want any hunters passing through her property. It felt a little bit funny to be installing a piece about the freedom to roam and at the same time use a land owner's right to deny trespassing. The whole situation made me think about what kind of "use" of land that feels just to me, and what not. If I had owned land I would definitely not want any hunting to be done there either, simply because I don't hunt myself and don't want to risk my life walking around in the woods….
After some feed back from people living on, or close to Old Brooke Road, I became aware of a local land related conflict of a kind that I, strangely enough, hadn't even considered when the idea for this piece came up. It's a conflict about power and control, about brave and persistent individuals fighting against authorities and big businesses to prevent exploitation of land. In this local case it's about a uranium mining threat close by, but on a global basis this is of course a huge deal.
In Norway, for example, the area of Lofoten on the northern coast holds the last unexploited oil field in the country. The awareness of oil peak seems to not have been very high in Norway up until recently, but as it's considered that their current oil fields will be empty in only ten years from now many people are waking up from their state of "petromania" and are now facing the decision of either opening up for oil drilling in the Lofoten archipelago to keep the national economy on the same high level it has been on since the seventies, or to let this wild and beautiful area remain untouched.
For more information about Lofoten, you can visit www.lofoten-info.no
For more information about the Swedish Allemansrätt: www.naturvardsverket.se/en/In-English/Menu/Enjoying-nature/The-right-of-public-access
I would like to say thank you- so much- to every one who has given me feedback on this project. I am so happy that it seems like the piece has really been able to be trigger some thoughts.  More comments are very welcome.
November 20, 2009
2009 - Freedom to Roam ARCHIVE | Land artSculpture & Installation | Comment
WORK IN PROGRESS
ARCHIVE
TAGS