2011 - Wire Works I-V 2011 - Wire Works I-V ARCHIVE | Comment
Wire Works I-V, installations made with iron and porcelain barbed wire, is a kind of method developed to investigate spatial ideas. My fascination for barbed wire, the form as well as the conceptual image, grew out of a trip to South Africa a few years back. The wire is so ambiguous and contradictive. How can something so threatening at the same time be so beautiful? The wire communicates an image of surveillance and protection as well as exclusion, all depending on which side the spectator finds him/herself.
Wire Works V / Inre gräns, yttre gräns II,
Multeum, Strängnäs, to January 28, 2012
Wire Works IV / Inre gräns, yttre gräns
From the show Fem Markörer, Nyköping, September 2011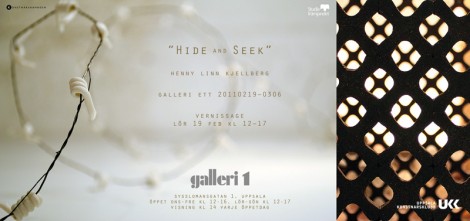 The piece was made for the show Hide and Seek in Uppsala, February 2011.
How can room and object in combination be used to flip perspectives and illustrate the borders between accessibility and isolation, between inside and outside? In earlier works I have been commenting on the theme borders: mainly physical, political and geographical. In Hide and Seek I am approaching the same idea from a more personal but at the same time universal angle. The three pieces shown in this exhibition describe the borders of human fear of alienation and our urge to protect ourselves, both physically and psychologically.
With support from:


WORK IN PROGRESS
ARCHIVE
TAGS